Sydney's first sustainable suburb could be really cool -Chippendale on ABC!
There's more growing in the inner Sydney suburb of Chippendale than the fruit and vegies in its roadside gardens.
The ideas of local food production, water conservation and and clever efficient planning look to be thriving, with an ambitious plan to grow the suburb into the city's first sustainable suburb.
Sustainability coach and local Myrtle Street resident Michael Mobbs has a vision for the tiny suburb to produce around 33 thousand kilograms of food and over 10 thousand kilograms of fish, reduce the need for it's energy and improve the air quality.
He believes it to be the first plan for a sustainable suburb in Sydney, and perhaps Australia.
"I'm out there with a torch, shining into the future!"
Mr Mobbs first developed a sustainable house, and has since driven a project that has made his street 'sustainable' - or at least employing some key sustainablility principals such as installing solar power, rainwater tanks, re-using sewage and the planting of over two thousand herb plants and fruit trees.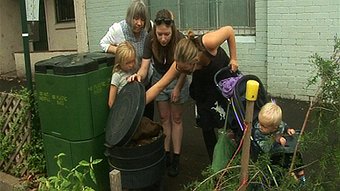 Now he is close to completing plans for the whole suburb to implement these and other ideas and have them as a viable 'trial' for wider implementation within the City of Sydney area.
He says is will be more than just a group of sustainable houses with one of the key principals being energy saving through creating naturally cooler suburbs through a number of technicques such as reducing the amount of heat retaining dark surfaces within the suburbs.
"We're looking at cooling the suburb by lightening the colour of the road surface and roofs, retaining and recycling water to feed fruit and shade trees. This will mean there's no need to buy air con in the houses, businesses and cafes and generally it will make it a more comfortable place to be."
Sustainable pricipals have been applied to other cities around the world - Read more here.